Connectus announces deal to sponsor Sale Sharks and England Rugby star
7th September 2023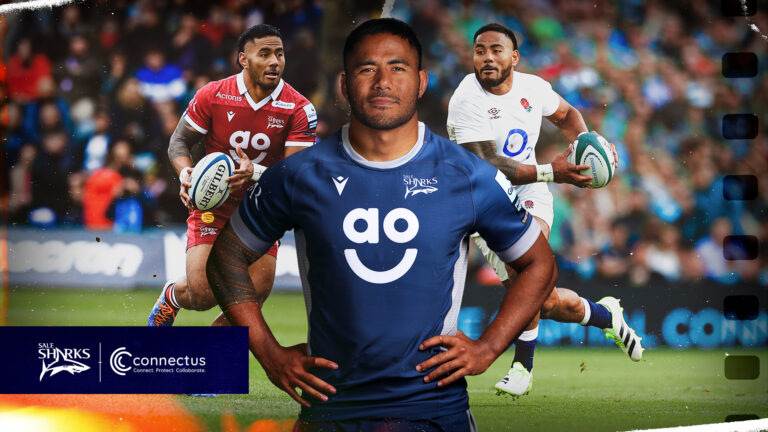 Connectus is proud to announce that it will be sponsoring Sale Sharks and England Rugby Union star Manu Tuilagi for the 2023/24 season.
Manu, who has won 51 international caps, recently signed a one-year contract extension with Sale Sharks, and the 31-year-old is expected to play a key role in the team's quest for glory this time round.
Roy Shelton, the CEO of Connectus, said he was delighted to be sponsoring the Manu, who has also won caps with the British and Irish Lions, and who joined the Sharks from Leicester Tigers in 2020.
Roy said: "Manu is a born winner, and we are delighted to be able to support him in the coming weeks and months.
"Connectus has a long and valued relationship with the Sale Sharks, and this is an exciting new chapter within that story.
"I am looking forward to seeing the Sharks go from strength to strength this season. Like many supporters, I will be rooting for them to go one step further than last season where they played with such flair, bravery and energy. Good luck to Manu and to the team for the season ahead."
Connectus is the official connectivity and IT Partner for the home of Sale Sharks, undertaking all network, telephone, and cyber security at the Salford Community Stadium, to boost its efficiency during match days and regular business hours.
Connectus has also previously sponsored former Sharks club captain, Jono Ross.
Commenting, Connectus Business Development Director Andy Marsden said: "The Salford Community Stadium is one of the region's most iconic sporting venues, so we're delighted to continue to play such an important role in its day-to-day operations.
"Manchester and the broader North West is of great importance to Connectus as we bring our expertise and experience to companies throughout the M62 corridor. We're looking forward to meeting lots of new friends, clients, and contacts through our work at the Salford Community Stadium over the coming season."