Connectus Group Launches the Tech Check In Desk
28th March 2023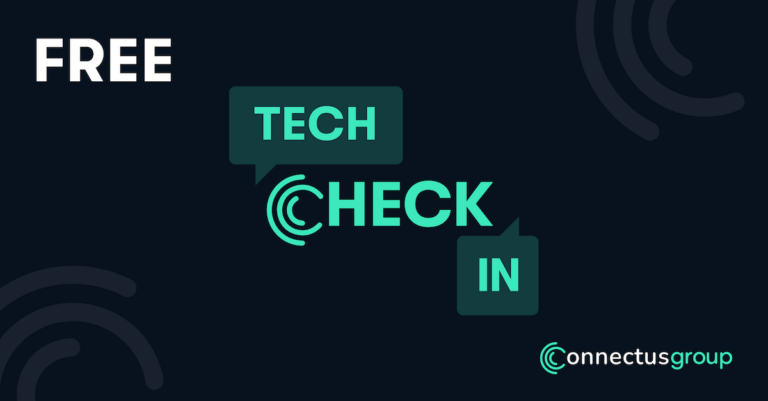 At the Connectus Group we know we have the very best team of technical support staff in the business. That's why we are excited to be offering a brand-new service which will help our valued clients to further benefit from their unrivalled expertise.
From next month (April) existing Connectus clients, as well as prospective new ones, will be able to access our Tech Check-In Desk. Overseen by a team of Connectus experts, we will be offering a free session of 30 minutes which can cover one of the following topics:
Microsoft Teams Introduction / Advice:
A basic introduction to Teams and how it can improve communication within your business.
Including Setting up a Channel, setting up a Group, Booking Meetings using Teams and Information on Teams-enabled devices.
An initial review of your Main SharePoint site with advice on folder structure and security permissions.
Cyber Essentials Readiness:
A quick assessment of your business systems to assess your Cyber Essentials readiness, with a view to making recommendations for changes before certification.
A review of your 365 tenancies, including admin roles and user/guest access with the aim to implement better security practices across the tenancy.
An assessment of your call flows and advice on the features available to maximize your utilisation.
Pip Shelton, Operations Director said: "The Tech Check-In Desk is the latest sign of our commitment to delivering the highest level of support to our clients.
We are continually investing in our customer success strategy, and we are determined to continue demonstrating the ongoing significant added value we create for our clients a week in week out.
This service is open to new and existing clients along with companies who just want peace of mind that they are doing or at least thinking about how IT should underpin their corporate objectives via increased collaboration in a robust, cost-effective, and secure manner.
The service is aimed at providing no-nonsense and practical advice on some of the top burning issues and value add to companies and what we are seeing in the marketplace.
We've picked five topics that we find clients are often needing support on, and those who check-in for support will be able to choose the one which is most relevant to their business."
Interested companies can simply click here and arrange an appointment.