Digital Transformation: The key to unlocking growth in your business
15th May 2023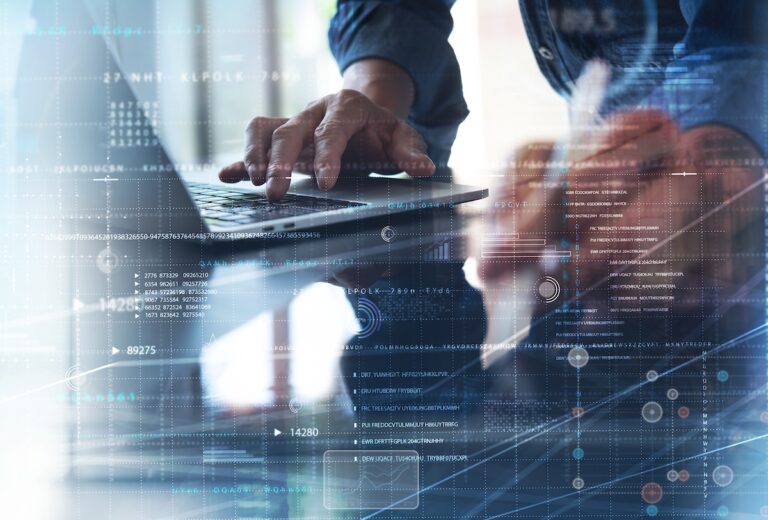 To read more, just enter your email address below
By Roy Shelton, CEO of Connectus Group.
The last few years have not been easy. We've lived through concerns about the impact of Brexit, a global pandemic and now a cost-of-living crisis. For businesses, it has made it even more important to be willing to pivot, embrace change, and consider new ways of working. The sheer pace of the challenges which have been thrown at UK plc since 2020 means business owners would be forgiven for not having time to pause, reflect and review the journey they've been on. But as we continue to move out of the pandemic, and hopefully away from economic turmoil, now is the perfect moment to take a breath. And that's why the Connectus Group has chosen this moment to roll out a new strategy for digital transformation which will help businesses make the next step in their growth journey.
Journey is the keyword. Any digital transformation strategy is a journey. It starts with exploring, agreeing, and embracing a strategic vision, and then ensuring the IT strategy and delivery programme drives it forward. At the Connectus Group, we work with our clients and partners by reviewing what IT infrastructure they have in place and assessing how those fits into their vision strategy.
We've found the perfect strategy revolves around three central pillars: people, process, and technology. It is important to ask questions like Are your people trained in the right applications? Are your internal processes efficient and effective? And are your systems accessible, secure, robust, easy to use, well supported and cost-effective in terms of their technology?
Answering these questions really matters. According to the latest research, effective technology could grow the UK economy by more than £413 billion between now and 2030. That is the equivalent of around 19% of the UK economy. Despite the optimistic outlook in some areas, the stark reality is that too many businesses are still playing catch-up and too many are still not tuned in to the importance of delivering digital transformation. And, worse still, many are yet to see the benefits it can bring to them, to their staff and to their customers.
With this in mind our team at the Connectus Group is today releasing a special report outlining how and why digital transformation can be pivotal to growth.
Our report reveals:
> The financial benefits which can be delivered through successful digital transformation.
> The key drivers underpinning modern digital transformation projects.
> The barriers which exist to delivery.
> And how outsourcing can help provide the solution to rolling out an effective transformation strategy.
Digital transformation is a growing priority for corporations, trying to find new and innovative ways of filling their teams and goals at a time of economic restraint. And Connectus is incredibly well-placed to satisfy this demand. We can provide all the tools required to deliver effective digital transformation. Our services include investigation and corporate vision sharing; problem analysis; feasibility assessments; critical path analysis and business case developments; IT & Business process mapping services; Definition & sign off support; Cultural testing projects; Change deployment; Test and measurement change processes and ongoing Stakeholder engagement.
Find out more about how our team can help you plan and execute the perfect Digital Transformation.
Digital investment could add a potential £76bn to the UK Economy within four years
The pandemic forced organisations to upgrade their systems and invest in digital transformation but how far have they come, and how quickly? One recent report by Virgin Business Media sought to answer these questions. It found that the most forward-thinking organisations fast-tracked their digital transformation projects by an average of three years across the UK. The research also discovered that continued digital investment could add a potential £76 billion to the UK economy within the next four years. It concluded organisations that are already investing are currently focusing on three key areas – hybrid working; digital delivery of services (including data analytics and machine learning) and how digital transformation can help create happier and more productive employees.
What is driving digital transformation?
Digital transformation is driven by technology, specifically the emergence of new digital technologies. This includes cloud computing, mobile devices and apps, analytics, artificial intelligence (AI), and machine learning (ML) technologies that enable businesses to create more efficient and effective ways of doing things. Companies that want to stay competitive need to embrace these technological advancements to improve their products and services. Digital transformation can involve a range of activities such as modernising core systems, designing customer experiences, or creating new business models. Companies are looking for ways to enable remote work, streamline customer service and communication and ensure business continuity.
Hybrid working is a win-win, but digital transformation is required to get there
Hybrid working has also made us more productive. When you look at the benefits of increased remote working, 90% of employees say this form of working helps them build their working day around other commitments, improving their work-life balance and saving them time and money as they reduce their commute. Increased remote working has also resulted in an extra two hours of work a day for the average employee. It's a win-win situation because it has also led to a 4.9% increase in customer satisfaction across the UK. But investment is required to ensure hybrid working remains a viable long-term model for organisations. Ensuring employees are both satisfied and happy, as well as being productive, means implementing solutions that enable seamless communication internally and externally. It also requires working files that can be accessed safely and securely. This can often be eased by shifting to cloud-based systems. By putting all of this in place, companies can ensure their employees feel empowered to work efficiently from anywhere – and even boost productivity and satisfaction in the process.
Investment in digital transformation is predicted to climb further in 2023
With so many tangible benefits, it's little wonder digital transformation and investment is high on the list of priorities for businesses. As companies look to pivot their models to become more resilient amid the cost-of-living crisis, six-in-ten executives of large companies expect to increase spending on digital transformation despite economic headwinds. One recent report from Boston Consulting Group (BCG), the strategy consulting giant, surveyed more than 2,700 executives, with roughly half the managers surveyed working for companies with more than 5,000 employees. Of that group, two-thirds said they intend to spend more on digital initiatives in 2023 than in previous years – while just 4% will reduce technology spending. Regarding which kinds of technology are expected to gain ground, BCG found that artificial intelligence, blockchain, and the Internet of Things (IoT) were of the most interest to executives.
Just 5% of businesses plan to reduce their digital strategy budget
The COVID-19 pandemic saw SMEs step up their digital investments to develop strategies that incorporated digital transformation technologies and helped their business remain competitive. But what's happened since? One recent report showed that most UK SMEs will maintain (46%) or increase (50%) digital transformation investments for at least the next two years. A further 55% of respondents indicated their current strategy was working well and that they felt more investment would mean more revenue. A further 40% of those planning to increase expenditure were still working on setting up their strategy and thought that more investment was required until it was fully implemented. Fewer than 5% said their company would decrease their budget in digital strategy.
One in five businesses put digital change in the hands of untrained employees
Digital transformation is more challenging for smaller businesses that have tighter restraints compared to larger enterprises. A recent report by the Organisation for Economic Co-operation and Development (OECD) showed digital adoption gaps have grown for SMEs when compared to larger firms. SMEs have had to compete to access finance for digital investment, develop infrastructure for digital transformation, and hire or develop the right talent to drive these changes. When it comes to finding talent, most SMEs have acknowledged the need to find specialists or train staff to acquire the skills that can help drive this digital transformation. Many companies have an in-house professional in charge of their digital strategy. However, one in five businesses has decided to relay the responsibility of handling digital strategies to employees who are not trained in the field. In the long-term, this can have a detrimental impact on your business, and stifle growth.
Almost half of small businesses face navigating a confusing digital landscape
Encouraging businesses to embrace digital transformation appears to be at the heart of the Government's policy agenda. In a major report, released in October 2022, called "UK Digital Strategy", the Government concluded there are demonstrable productivity improvements to businesses that adopt digital technologies. It found SMEs which use two or more business management technologies can secure productivity gains of up to 25%. However, Ministers say one of the greatest barriers to the adoption of technology by SMEs is understanding what product to choose. Of those polled, 44% of SMEs thought that 'there is too much confusing information' about established technology solutions. It said SMEs are more likely to succeed with technology adoption if their leadership and employees are appropriately skilled and supported. The report found businesses often face lengthy and difficult processes to select new technology solutions and hurdles in obtaining financing.
Almost half of the business leaders have not heard of cloud computing
According to the Government's Digital report both citizens and businesses see digital technology as one of the biggest areas of growth for the country after health, with cloud computing playing an integral role in underpinning the technology stack that will enable the UK's digital future. Over half of UK organisations (53%) agree that digital technology has become increasingly important over the last five years. This increases when talking to large companies with over 250 employees – of which 89% believe that technology is more important now than it was five years ago. Digital skills were seen as "important" or "essential" by 82% of businesses, rising to 98% for digitally intensive businesses. In fact, digital skills are increasingly more desirable than other formal qualifications. 46% of businesses consider intermediate digital skills (such as creating a website) as "important"; but only 28% of businesses say the same for university degrees. Almost two-thirds (57%) of the most digitally intensive businesses have found it difficult to find staff with good digital skills. At the same time, those businesses said that a shortage of digital skills had slowed growth (62%) and increased costs (63%). However, most individuals have not received formal digital training and are, instead, self-taught. Meanwhile, 52% of respondents had developed their skills through trial and error, closely followed by 44% who have learnt through their own research.
A mismatch between priority and delivery
But there's a problem. Even though nearly two-thirds of businesses have made digital transformation a high priority for 2023, more than half currently have no activated project designed to deliver it. This mismatch was revealed in a major new report called Censuswide Buyers: IT Leaders: The Future Outlook Report 2023 and presents a major barrier to growth and wider economic prosperity. The survey examined CIOs' and CTOs' IT strategies, initiatives, and challenges then analysed what they were focusing on in the months ahead. Other key findings included the fact that 62% ranked digital transformation as a "high priority" in 2023, but among this group, 77% are only in the planning stage of projects and 56% currently do not have a digital transformation project: 47% feel the increased cost of living has led to the inability to meet salary expectations for new and existing staff while 67% want to reduce legacy enterprise application support costs by switching to third-party support.
Benefits of Digital Transformation
The conclusion then is clear: digital transformation has never been more relevant, and businesses are increasingly open-minded about working in collaboration with others to provide it. Creating effective solutions for IT optimisation and digital transformation help provide the foundations for any growing business and will set them on the path to growth – and success. There are five key benefits which digital transformation can help to deliver.
Operation digitalisation is a universal benefit of digital transformation, for both employees and end-users. Throughout digital transformation, the architecture of an entire organisation can come together as a digital ecosystem. When you consolidate analytics and project management, businesses can better connect with a target audience and provide helpful solutions for their needs.
Increased innovation and agility
For continued success in a world that changes due to technological advancements, businesses need to be open to trying some of these emerging technologies. This can help companies become more agile – which can help assist them to thrive alongside changing public demands.
Easier collaboration across departments
While digital transformation can be a daunting process, it's also an opportunity to increase unity, solidarity, and collaboration across a workforce. Both before and after implementing digital transformation, communication is key. Once the transformation has been implemented, organisations can gain the benefits of increased collaboration. This comes from providing the right digital networks and platforms that employees can use and interact with.
Increased data transparency
Through an effective digital transformation strategy, businesses can benefit from greater visibility and insight into data. By updating data capture and management, they are able to gain a transparent view of their operations, particularly in terms of performance. This data is also made more universally available, meaning that everyone can have access to a project. By gaining more transparency over data, businesses can understand customers and clients better.
Creating a better organisational culture
Digital transformation aids the creation of a strong organisational culture. A better, more adaptable organisational culture is one that remains productive and engaged within the digital functions and services of an organisation.
Benefits of outsourcing the job of Digital Transformation
For any business, moving towards an outsourcing provider is a big step. But outsourcing your digital transformation can be beneficial for companies if it is done correctly. It can provide the expertise, tools, and resources needed to stay ahead of the competition. Plus, it can help reduce costs while allowing you to focus more on core business activities. By consolidating responsibility for the project in one vendor, it is can be easier to keep track of progress and budgeting. A third-party vendor can provide specialised skills that your business may not possess in-house – such as software development or cloud computing expertise – allowing you to quickly implement new technologies to meet customer needs and stay competitive. Outsourcing can also be beneficial in situations where you need to quickly complete a project. If the vendor already has an established team of experts, they can work faster and more efficiently than if you were to build your own internal team from scratch. Additionally, outsourcing digital transformation can be less expensive than hiring an internal team. When you outsource, you don't have to worry about recruiting or training new employees. Outsourcing can also provide access to the most up-to-date technologies and processes. As digital transformation evolves, so do the technologies that are used.
Key things to look for in a Digital Transformation outsourcing partner
Experience: Look for a vendor with experience in digital transformation and customer success stories that demonstrate their ability to deliver on time and within budget. Ask questions like: How long have they been in business? What types of projects have they completed before? Do they have experience with similar projects?
Expertise: Choose a vendor who has expertise in the technology your business needs, such as cloud computing or software development. For example, if you're looking for a vendor to help with your mobile app development, make sure they have the right experience and technical know-how.
Reputation: Ask for references or read reviews online to get an idea of how reliable the vendor is. This is where it's important to do your homework, as you don't want to end up with a vendor who can't deliver.
Cost: Make sure you understand the total cost of the project – including any hidden costs – before signing a contract with the vendor so you can be sure it's worth the investment. What is the vendor's fee structure? Is there a minimum commitment or are you billed on an hourly basis?
Security: Ask about their security protocols and procedures to ensure your data is safe and protected. Ensure that the vendor has a secure infrastructure in place to protect your data and that they comply with any applicable regulations or laws.
Flexibility: Make sure the vendor is able to adjust the project timeline if you need to pivot in a different direction or make strategic changes. Digital transformation is an ongoing process and you want an IT outsourcing partner that can be flexible and responsive to your needs. If you need additional resources or expertise, make sure the vendor has the capacity to scale up quickly.
Digital transformation is a growing priority for corporations, trying to find new and innovative ways of filling their teams and goals at a time of economic restraint. And Connectus is incredibly well placed to satisfy this demand. We can provide all the tools required to deliver effective digital transformation. Our services include investigation and corporate vision sharing; problem analysis; feasibility assessments; critical path analysis and business case developments; IT & Business process mapping services; Definition & sign off support; Cultural testing projects; Change deployment; Test and measurement change processes and ongoing Stakeholder engagement.
Find out more about how our team can help you plan and execute the perfect Digital Transformation.