Business owners are reporting a rise in energy bill scams
13th October 2022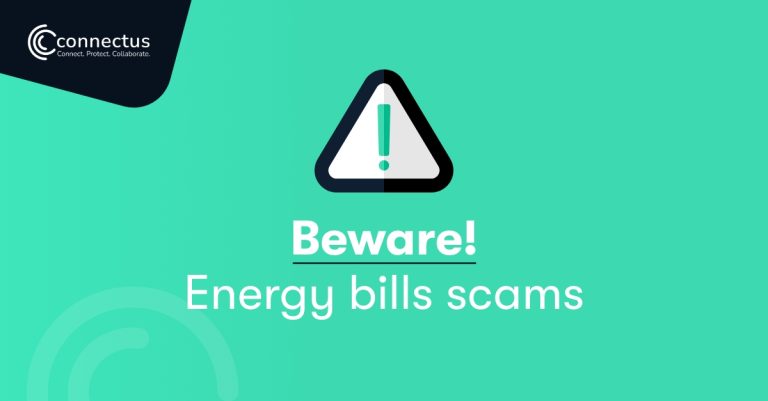 "More and more business owners are reporting a rise in energy bill scams as fraudsters prey on concerns about the rising cost of living. We need to be on red alert to protect our clients."
At the Connectus Group protecting the security of the businesses we work with plays a vital part in the service we provide. This commitment to protection couldn't be more important right now because criminals are more determined than ever to trick businesses into falling for fraud.
Companies are currently reporting more and more cases of energy bill scams and, as Government money is distributed to help people cope with soaring gas and electricity, many commentators are predicting that the number of scams will grow even higher between now and Christmas.
Commenting Roy Shelton, the CEO of the Connectus Group, said: "This issue is really concerning, and it is something we all need to be on red-alert about to ensure we protect ourselves, and our clients. More and more business owners are reporting a rise in energy bill scams as fraudsters prey on concerns about the rising cost of living.
"The most common scam sees directors and senior managers receiving what appears like genuine contact from their current energy provider. This is happening via email, text message and phone calls where the criminals offer support with spiraling energy costs. Criminals behind these scams are part of gangs making millions of pounds a year through scams and fraudulent activity.
"Another common fraud has been an electricity disconnection scam targeting small businesses, especially those in hospitality. The scam consists of a call from a made-up energy supplier alerting the business owner that their gas and electricity will be immediately cut off unless the full bill is paid right there and then over the phone with a credit card. In this situation, hang up the phone and be sure not to disclose any personal information, especially not your credit card details. In fact, most energy suppliers don't even accept credit card payments over the phone.
"Another common, and sometimes very convincing scam, is the one consisting of frequent phone calls (up to 30 – 40 every day) as soon as you move your business to a new location. In this case, the caller will probably tell you that if you don't agree to a contract over the phone, your energy supply will be cut off immediately. This is not true. When you move to a new property, the current energy supplier will continue to supply your business with gas and electricity. As soon as you move in, you will be 'out of contract', meaning that although you will be charged deemed rates (which are often overpriced), you are free to get a new energy deal with any supplier you wish."
"We should also be advising our clients to remember that providing they're eligible, their business will automatically receive Government support for your bills – they won't need to set up new direct debits to receive the money.
"Also, be sure to make clear to our clients that genuine and ethical energy providers won't ask you to share personal data in an email or text message. Urge them to be mindful too that scammers can create fake Ofgem websites, known as 'spoofing'. If you receive a message you're unsure about, contact the provider directly using the contact details from their official website to confirm the message is legitimate.
"The list of ongoing energy scams that target businesses just keeps on getting bigger. So please contact me directly if you have any examples you believe need to be shared.
If you think you've received a fraudulent email or text message, you can also forward any suspicious emails to report@phishing.gov.uk , where the NCSC can investigate them. Report fraudulent text messages to your mobile provider on 7726 (you won't be charged). If you are unsure and concerned, then speak with one of our team to assist you in adopting a more proactive approach to cyber security management.