Salford Red Devils select Connectus for unified comms
31st January 2020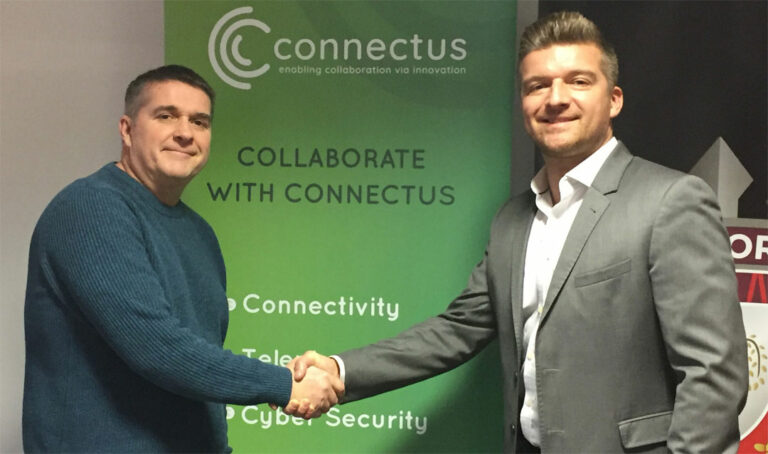 Salford Red Devils rugby league club has selected Connectus as its new connectivity, telephony and cybersecurity provider.
As part of the new support service, Salford-based Connectus will provide the Red Devils with ultrafast broadband connectivity, comprehensive IT support and a new, cloud-based telephony system.
Connectus and the Red Devils — both based in the AJ Bell Stadium — are also exploring a range of sponsorship opportunities to add value to the new relationship.
The Red Devils are the second rugby club to join forces with Connectus as the communications and security specialist already provides connectivity services to Sale Sharks at the AJ Bell Stadium in Salford.
Salford Red Devils director Paul King said:
"This partnership with Connectus across our IT, communications, and cybersecurity, is another example of how we have strengthened the club's structures. Their bespoke approach will allow us to operate at a higher level and — working with one of our fellow tenants at the AJ Bell Stadium — reemphasises our status as a community club."
He added:
"Working directly alongside each other at the Stadium has ensured our service is specifically catered to the environment and getting to know their members of staff during the process has been a pleasure. It's important we embrace innovations as a business and remain forward-thinking in our technological approach. This partnership will help us guarantee that continues to be the case."
Connectus Business Development Director Andy Marsden said:
"It's very rewarding to see our expertise and experience recognised by another major sporting brand. Every day, we continue to enhance our capabilities in this area of a constantly evolving unified comms and connectivity market, so it gives us a great deal of satisfaction to welcome new clients who can make use of our unique range of services and applied technical knowledge. We're looking forward to introducing more stadium-based brands to the ever-growing Connectus family of clients and partners."
Connectus provides a full spectrum of superfast, cost-effective business broadband solutions and ultrafast dedicated full-fibre connectivity. In addition, the company also offers cutting-edge collaboration tools and VoIP telephony, expert consultation for legal compliance, and managed cybersecurity services.