Sci-Tech Daresbury strikes gold with perfect 10 partners
24th September 2021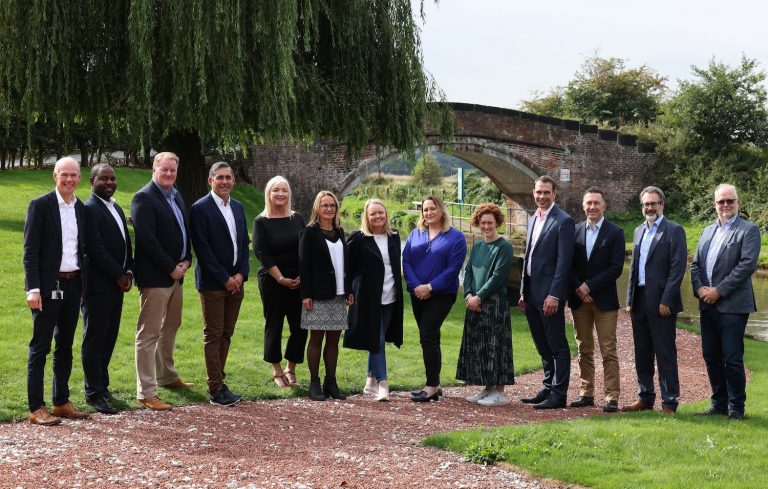 Sci-Tech Daresbury has named ten strategic organisations that will offer first class business support, expertise and services for its high-tech SMEs in the coming 12 months.
Grant Thornton, IBM, Konsileo, Marks & Clerk, Michael Page, RTC North, Slater Heelis and the University of Liverpool will return once again to serve as the campus's Gold Partners for 2021/2022 and will be joined by Connectus and Honest Cat.
The Gold Partners are a group of handpicked organisations that enhance the benefits for businesses located at Sci-Tech Daresbury across a range of areas, including legal services, financial and tax management, corporate finance and funding, AI and data analytics, intellectual property, marketing communications, talent recruitment and retention, scientific research, technology commercialisation and IT infrastructure, cyber security and cloud solutions.
Many of the returning Gold Partners have been engaged on the programme for several years meaning that they have developed valuable insights and experience into the needs and opportunities for the high-growth technology companies at Sci-Tech Daresbury enabling them to offer bespoke advice and support.
The two new members of the cohort will bring additional expertise for campus companies to access with Connectus's mission being to help businesses to be connected, protected and collaborate effectively through their IT infrastructure, and Honest Cat offering a comprehensive package of communications services from website and social media content to press office functions.
Each of the Gold Partners will share their knowledge to around 150 businesses currently based at Sci-Tech Daresbury through events, seminars, expert advice, and one-to-one sessions.
John Downes, group chief executive of Langtree and chairman of the Sci-Tech Daresbury joint venture company, said: "The strength of Sci-Tech Daresbury is found in organisational willingness to collaborate and the belief, especially in these most difficult of times, that we are better together.
"Not only are we grateful that our Gold Partners continue in their desire to help our companies who are either starting on their journey or wanting to grow and scale, but we are extremely pleased that they have been joined by Connectus and Honest Cat to bring additional knowledge, expertise and support in key areas like IT and marketing.
"I am convinced that the Gold Partner programme is one of the main reasons why, despite the Covid-19 pandemic, the campus continues to attract new companies and sees strong growth in our existing companies.
"With their pool of expert skills and knowledge, what each of them offer is invaluable in growing the companies they help and the reputation of Sci-Tech Daresbury as a great place for businesses to thrive."
One campus company that has benefited from the Gold Partners' expertise over recent years is Quantum Science which earlier this year formed a partnership with the Japan External Trade Organisation (JETRO) to support and assist the company's continued business growth in Japan.
The leading nanomaterials company in the field of machine sensing and biosensing has worked with several of the Gold Partners including Slater Heelis and the University of Liverpool.
Hao Pang, founder and CEO of Quantum Science said: "We are continuously exploring opportunities with Sci-Tech Daresbury's Gold Partners in various ways and knowing that their wise counsel and practical help is on hand, adds confidence as we take Quantum Science to the next level.
"Slater Heelis, for example, helped us when we expanded into the Techspace One building and have advised on several contractual matters like NDAs and MTAs. They are efficient and professional, and their commercial acumen has been a real bonus when tackling complicated situations.
"When dealing with the Gold Partners it always feels like a collaboration and that's certainly true of our burgeoning relationship with the University of Liverpool from whom we have had an innovation voucher and access to their Knowledge Exchange Funding Scheme. Our relationship has developed further from using our materials in machine sensing to biosensors applications and regular meetings with their research groups.
"Other partners have helped too – such as Konsileo with insurance issues – and we look forward to working closely with all the organisations further in the future. This common mission of excellence in growth is what makes Sci-Tech Daresbury a great place to be."
Sci-Tech Daresbury also boasts Enterprise Zone status, which enables government support in the form of tax breaks, allowing business rates to be reinvested into the site and create important new infrastructure. This, alongside streamlined planning development, supports greater investment into further expansion of the specialist office, laboratory and technical space on the campus.
Sci-Tech Daresbury is a private-public joint-venture partnership between developer Langtree, the Science & Technology Facilities Council (STFC) and Halton Borough Council.
The Gold Partners will provide dynamic insights across a range of sectors:
Connectus provides business critical infrastructure alongside fully business managed services to help businesses stay connected, protected and to collaborate effectively online as they scale and grow.