A warm welcome at Connectus for Jessica
24th October 2018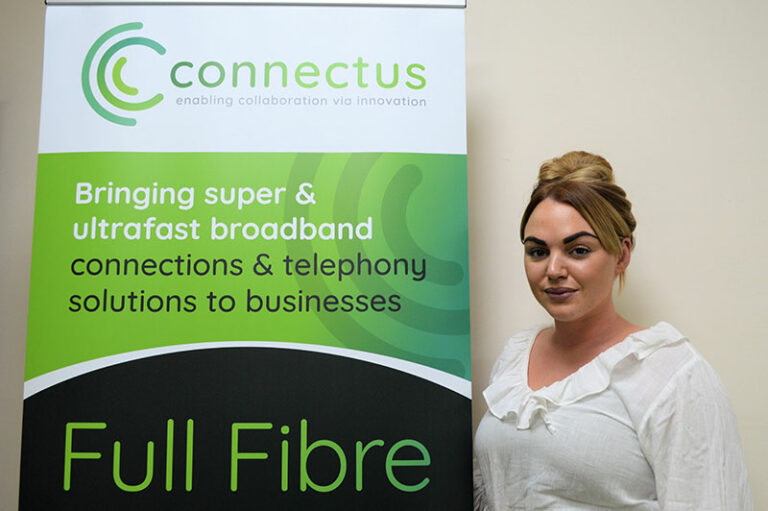 Since launching at the start of the year and following the acquisition of a well-known Doncaster based telecommunications company, Connectus Group Limited continues to develop its team and offering.
The latest good news to come from the company is that they have welcomed a new Office Administration and Finance Manager to their Doncaster head office in Meteor House, near Robin Hood Airport in Doncaster.
Jessica Murray (27) from Doncaster brings with her a wealth of experience working in office and financial management roles for almost ten years. She has previously worked for fast paced organisations in the construction and chemical distribution sectors.
Jessica said: "I really wanted to join Connectus to embark on a role that would grow alongside an expanding organisation. Connectus is really going places and it's an exciting time to be joining such a fast paced and renowned business offering connectivity solutions."
Jessica will manage all the company finances, take on general office management duties and will be the first port of call for all new and existing customers with any queries they have regards to connectivity, grants available and full fibre networks.
Duncan Shaw, Operations Director for Connectus said: "We are very happy to welcome Jessica to our already experienced team at Connectus. She will bring an abundance of business and finance experience to the table which will benefit us as a company but ultimately our customers too.
Jessica is the latest to join the team with a further three positions currently being recruited for. For more information about Connectus, its services or vacancies call 0330 440 4848 or check out the social media pages.